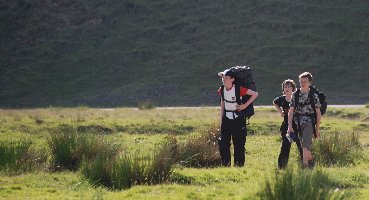 June 2024
The Kilbryde Hike is a competitive challenge hike for young people aged 11-18 taking place over a weekend in June. Organised by Boys' Brigade Officers, it is open to entries from all youth organisations, groups and schools.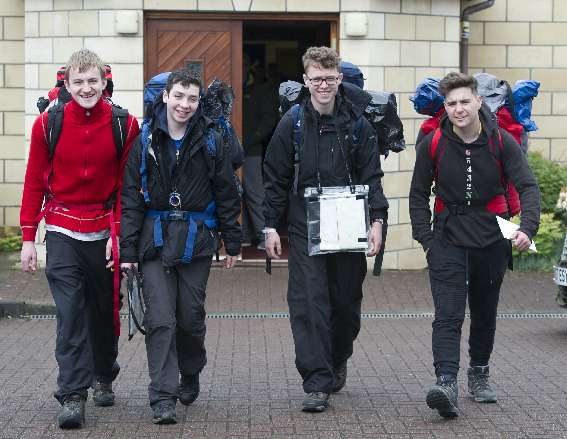 Travelling in teams of three - five over a course of around 18-25 miles over the two days, boys and girls must be self-sufficient and navigate between checkpoints over open moorland, forest and countryside in timed sections, with hiking and 'incident' (challenge) points available. The hike is not easy, but with the right training, attitude and preparation, is within the reach of all young people.
The Hike takes place in the hills and moors to the south of East Kilbride, 'roughly' bounded on the west by the A76 and the east by the M74. The area varies from year to year sometimes it will be around Kirkmuirhill or Darvel or further south around Crawfordjohn or Sanquhar.
There are four main categories for the two day event - 'junior', 'senior', 'expedition' and 'veteran' and a one day 'explorer' hike for those new to hiking, covering around 10 miles - they take part in the Sunday stages. Participants must carry their own equipment, including tents, stoves & pots, sleeping bag, food, clothing etc.
The Hike begins at around 8am on the Saturday Morning, concluding with a meal and prize-giving at the finish on the Sunday Afternoon. On the Saturday night everyone will camp at a designated campsite. A campsite will be available on the Friday night before the hike for teams if required.
The Hike can be used as a qualifying expedition for the Duke of Edinburgh Award at Bronze Level, assessors will be available, or why not use the Hike as a sponsored event to raise funds for your organisation or a local charity?
The first Hike in 1969 attracted almost 30 teams. It started from the then new Lindsay House in Kittoch Street, East Kilbride - the overnight Campsite was at Windshields Farm, north of Darvel - the finish was at the Old Parish Church New Hall. The Catering was by The Village Fish & Chip Shop!